Microraptor
Microraptor, one of the earliest dinosaurs to have the ability of gliding/flying, had four wings, with feathers on it's arms and legs.  It existed in the Early Cretaceous period, around 120 million years ago.  Microraptor was very small for a predator, about the size of a chicken, but it was a very competent killing machine.  It would climb to high spots in the jungles and forests and glide down on it's prey, usually small mammals and insects.  Fossils found of Microraptor have given paleontologists some of the best most well defined evidence of dinosaurs evolving to have feathers.  Scientists have also been able to determine the pigment of the feathers on Microraptor, concluding that it had glossy black coloration, giving it a similar iridescence to crows, ravens and grackles.
Microraptors are very small, and can be easily lost among the huge dinosaurs on displays in Natural History museums, but if you find one, try to examine the skeleton.  They were so tiny and delicate, but had razor sharp claws and a very unique lifestyle compared with the other creatures living around it.
Product Height: 5"
Product Width: 7"
Product Surface: Masonite
$250 $250
EDO now offers installment plans.
No interest for 6 months.
Just click Paypal Credit on the cart page.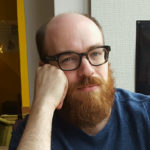 Owen Weber
Owen William Weber is a working illustrator, living in Astoria, NY. He attended Hartford Art School, graduating with a BFA in Illustration and a minor in Art History. Much of his commissioned work is based in the Fantasy genre. His personal work has evolved into mostly paintings of dinosaurs and other prehistoric creatures. His work is primarily painted traditionally using oils on masonite.

Recently, Owen's work has been included in such annuals as Spectrum 23 and 26, The Society of Illustrators 54, Illustration West 44 and 52, Infected By Art vol. 2, 3, 4, 5 and 6, and the Art Renewal Center's 2013/2014 and 2014/2015 Annual Salons. He lives with his wife, Sarah, their daughter, Dagmar, and their black cat, Mim.