Our mailing list gets early access every day.
Lodestar
From hag to hag o'er miles of quaking moss,
Benighted in an unknown countryside
Among gaunt hills, the Star my only guide…
                                       Wilfred Wilson Gibson
Height: 10"
Width: 10"
Depth: 1.5"
$350 $350
EDO now offers installment plans.
No interest for 6 months.
Just click Paypal Credit on the cart page.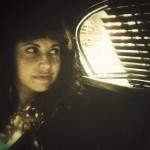 Mary Ancilla Martinez
I am an artist from New Mexico, currently based in Los Angeles. My work embodies myth and the esoteric through painting and drawing.