Blood Diamond
by Shannon Knight
"Blood Diamond"
6 x 8 inches
watercolour, gouache, and acrylic on paper
This piece was completed for Month of Love 2015, for the theme "Diamonds" – a reflection on the ethical ramifications of the diamond industry.
This painting comes framed and ready to hang. Frame is available in black or white.
$250 $250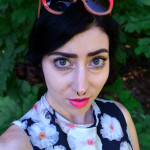 Shannon Knight
Shannon is a freelance illustrator who was born and raised in rural Massachusetts, and currently resides in Boston.

She recently received a Merit award from 3x3 The Magazine of Contemporary Illustraton, and her work has been recognized by the Society of Illustrators of Los Angeles and featured in Creative Quarterly.


Follow her work on Instagram @srkart and email her at info@shannonrknight.com for inquiries and commissions.